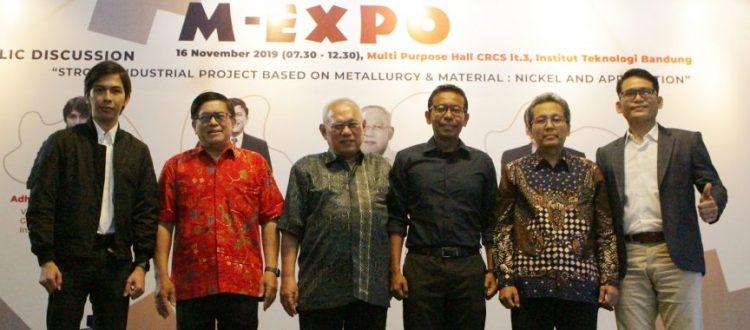 Facing the Future of Metallurgical and Material Industry
BANDUNG, itb.ac.id – The metallurgical and material industries have an important role in human life as well as in the scope of the country. This is confirmed by the Minister of Energy and Mineral Resources Regulation No. 25 of 2018 regarding the mineral downstream policy which requires the Indonesian state to undertake fund processing or mineral refining activities before export.
The policy has an impact on multiplier effects such as opening up industry, opening new jobs, and adding to the country's foreign exchange. Based on these thoughts, the Metallurgical Engineering Student Association (IMMG) ITB in collaboration with the ITB Metallurgical Engineering Study Program and the Indonesian Metallurgical and Materials Students Association (PM3I) held a series of events to facilitate students in facing the metallurgical and material industry in the future. The series of events was named Metallurgy and Material Challenge (M2C) 2019 which was held on Saturday and Sunday (16-17 / 11/19) at Multipurpose Hall CRCS ITB 3rd floor.
This year's M2C 2019 has the theme "Strong Industrial Projects Based on Metallurgy and Materials: Nickel and Application". The series of events was arranged by three events, namely Roadshow (introduction of metallurgical and material engineering knowledge to high schools in Bandung) which had been carried out in the previous days, M-Expo (exhibition of works and public discussion) which was held on November 16 2019, and The Challenge (metallurgical and material science competition for students throughout Indonesia) held on November 16-17, 2019.
The public discussion activities at M2C 2019 were conceptualized to bring together three parties (triple helix), namely industry, government, and educational institutions. Because of this, the event invited four speakers namely Adhietya Saputra (Technical Vice President of the RnD Group Mining and Minerals Institute of Mining Industry Indonesia / MIND ID), Dr. Dedi Mulyadi (Development Director of PT. Indonesia Morowali Industrial Park / PT. IMIP), Dr. Ir. Raden Sukhyar (Expert Minister of the Special Industry of Natural Resources Downstreaming), as well as Prof. Dr. mont. M. Zaki Mubarok, S.T., M.T. (Professor of Metallurgy in ITB).
In this public discussion the topic of discussion led to the development of the nickel industry. Raden Sukhyar stated that the government was determined to develop value-based industries and one of them was nickel. "Nickel has a high comparative advantage. In addition, Indonesia is one of the most nickel ore owners in the world and nickel consumption is increasing, so this is an opportunity for Indonesia to increase state revenues" he said.
Raden also said that the mandate of the ESDM Minerals and Ministerial Regulation Number 25 of 2018 concerning Increasing Mineral Value Added, Indonesia was building 14 industrial zones and one of them was PT. IMIP in Morowali, Central Sulawesi.
As a representative of the mineral industry, Adhietya Saputra stated that there were three mandates from his company from the government to support the downstream policy. These mandates are the management of strategic mineral assets (asset acquisition), mineral exploration and mineral downstreaming. "As a country that has the opportunity to dominate the nickel industry in the world, the use of nickel must be done because it anticipates its use which continues to increase until 2040" he said.
As Development Director of PT. IMIP, Dedi Mulyadi stated that the downstream mineral policies, especially nickel, had a significant impact, especially in terms of community welfare. "The nickel industry in Morowali, Central Sulawesi has helped move the economy of the local residents. What used to be a quiet street, now a lot of cars and motorbikes and many new jobs. In addition, because PT. IMIP is the result of RI's collaboration with China, so it is hoped that there will be technology transfer so that someday nickel processing in Indonesia can be done by the nation itself without the help of other nations" he explained.
Closing the public discussion, Prof. Dr. mont. M. Zaki Mubarok, S.T., M.T., explained about the readiness of metallurgical and material engineers to participate in helping the downstream policy. "Student competencies as prospective engineers must be prepared now before entering the workforce. These competencies include knowledge, skills, and attitude. Some parameters of the International Engineering Alliance (IEA) Graduate Attribute are the ability of graduates who have basic skills in engineering, analysis and problem solving, mastery of technology, care for the environment, ethics, can communicate something, and the willingness to continue learning for a lifetime" he said.
Reporter: Billy Akbar Prabowo (Metallurgical Engineering, 2016)
/?php comments_template(); ?>