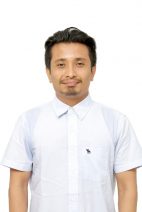 D.Sc. (Tech.) Imam Santoso, ST., M.Phil.
NIP: 198308292015041001
CONTACT
Tel : +62 (0)-22-250 2239
Fax : +62 (0)-22-250 4209
E-mail : imam.santoso[at]metallurgy.itb.ac.id
EDUCATION
Doctoral (2014-2019), School of Chemical Technology, Aalto University, Finland. (Thesis: Thermodynamic features of precious metals processing from copper anode slimes. Supervisor: Prof. Pekka Taskinen). http://urn.fi/URN:ISBN:978-952-60-8278-3
Master of Philosophy (2011-2013), School of Chemical Engineering, University of Queensland, Australia. (Thesis: High temperature phase equilibria in the Cu-Fe-S system. Supervisor: Prof. Evgueni Jak, Prof. Peter Hayes, Dr. Hector Henao). https://espace.library.uq.edu.au/view/UQ:323941
Bachelor (2003-2007), Department of Metallurgical Engineering, Institut Teknologi Bandung, Indonesia. (Thesis: Calculation of Energy Efficiency of Electric Arc Furnace for Steel Making Process. Supervisor: Dr. Eddy Agus Basuki).
RESEARCH INTERESTS
Metallurgical thermodynamic and modelling
High temperature material production
Phase equilibria
Extractive metallurgy
PUBLICATIONS
HONOURS, AWARD, AND PRIZES
Australian Development Scholarship (now Australian Awards Scholarship) awardee
LPDP (Indonesia Endowment Fund for Education) Scholarship Awardee, PK 25
Valedictorian Bachelor Graduate Institut Teknologi Bandung
INDUSTRIAL EXPERIENCES
Fuel Conversion; from Fuel coal and MFO to LNG, PT Vale Indonesia Tbk (2020)
Updating FeNi Haltim Project Feasibility Study, PT Feni Haltim (subsidiary of PT Antam (Persero) Tbk (2013 – 2014)
Layout of new Integrated Steel Plant, PT Krakatau Steel (2014)
Modernisasi dan Optimasi Pabrik FeNi-1 Pomalaa, PT Antam Tbk (2010)
FeNi Halmahera Project Feasibility Study and Basic Engineering Design, PT Antam Tbk (2007 – 2008)