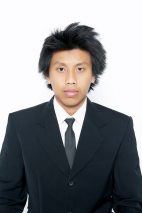 Achmad Ariaseta, ST., M.Eng.
Nopeg: 119110059
CONTACT
Telephone : +62 (0) 22 2502239
Fax :+62 (0) 22 2504209
Email : achmad.ariaseta@metallurgy.itb.ac.id / achmad.ariaseta@gmail.com
EDUCATION
[2018] Master of Engineering in Department of Materials Science and Engineering, Tokyo Institute and Technology, Japan.
[2015] Bachelor of Science, Department of Metallurgical Engineering, Institut Teknologi Bandung (ITB), Indonesia.
HONOURS, AWARDS AND SCHOLARSHIPS
Japanese Ministry of Education, Culture, Sports, Science and Technology (MEXT) fully-funded Scholarship, 2016 – 2018.
DEAN'S LIST award from 1st – 8th semester (GPA = 3.85), 2011 – 2015.
RESEARCH INTERESTS
Physical Metallurgy
Mechanical behavior of metals
Fracture mechanics
Microstructure design and characterization
PUBLICATIONS
T. Otsuka, H. Wakabayashi, D. Igarashi, A. Ariaseta, Y. Wang, S. Imano, S. Kobayashi, M. Takeyama, Effect of Homogenization on Creep of Additive Manufactured Alloy 718. TMS Proceeding: Superalloy 718 and Derivatives (2018). (https://doi.org/10.1007/978-3-319-89480-5_32)
A. Ariaseta, Ali, A. R., and Akhmad A. Korda, Advanced High Strength Dual Phase Steels through the Intercritical Annealing of API 5L B and X52 Steels. [Oral Presented]. The 2nd International Conference on Materials and Metallurgical Technology 2015 (ICOMMET 2015) in Conjunction with Asia Sense.
RESEARCH EXPERENCES
Characterization of Second-phase Particles and Their Effects on the Recrystallization Behavior during Solution Treatment of Additively Manufactured Ni-based Superalloy 718 (Master Degree), 2016 – 2018.
Creep of Homogenized Additively Manufactured Ni-based Superalloy 718 (Master Degree), 2016 – 2018.
Mechanical Properties of Ultra High-strength Dual Phase steel from API 5L B through Intercritical Annealing for Pipeline Application (Bachelor Degree), 2014 – 2015.
WORK/PROJECT EXPERENCES
The construction Hot Skin Pass Mill with 800,000 tpy in capacity and Tension Leveler machine with 250,000 tpy in capacity", PT Krakatau Steel, Indonesia, 2019.
The making of high-strength steel with KSW500 specification for the application of military armor steel", PT Krakatau Steel, Indonesia, 2018.
A Study of Life Assesment of CMB 3 and CMB 4 Oil and Gas Pipeline From CMB 3 and CMB 4 Oil Well to CMB Storage Station, PT. Pertamina, (Internship), 2014.
Version: March 2019