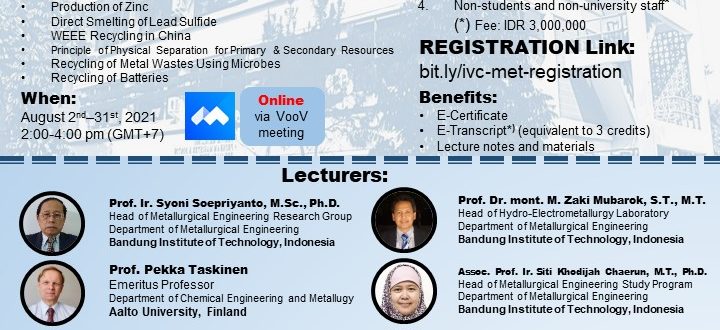 Learn More about Metallurgy through the International Virtual Course in Metallurgy 2021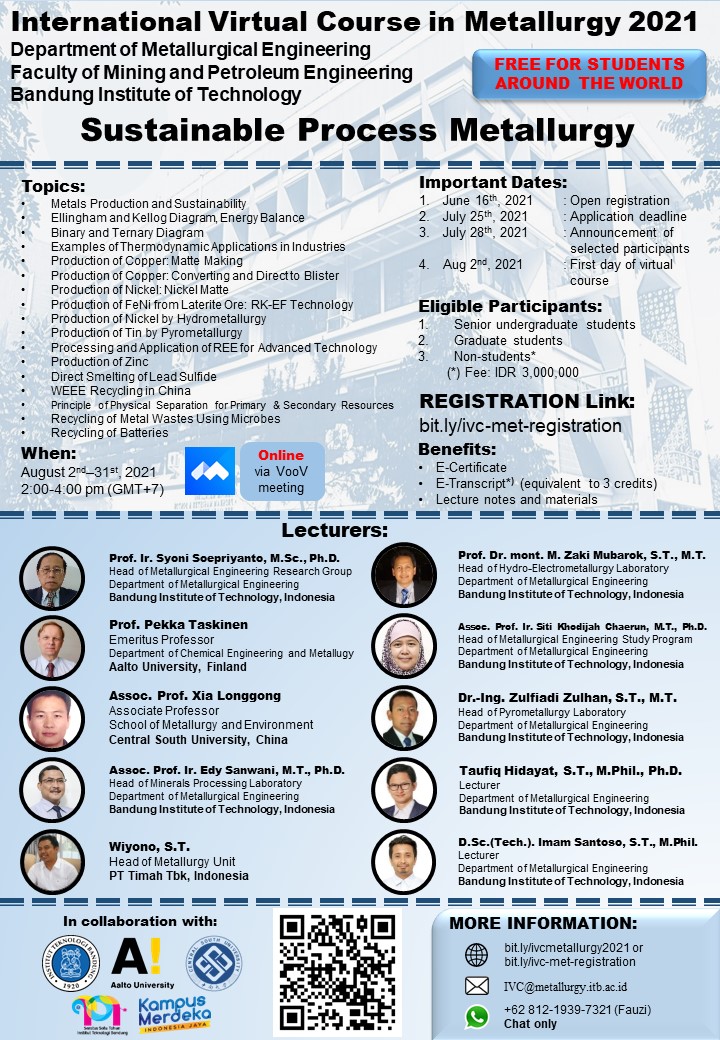 BANDUNG, metallurgy.itb.ac.id – The Bandung Institute of Technology's Metallurgical Engineering study program will hold international online lectures with the title "International Virtual Course in Metallurgy 2021" in collaboration with two universities abroad.
Department of Metallurgical Engineering, Faculty of Mining and Petroleum Engineering ITB, in collaboration with Aalto University from Finland and Central South University from China, will hold The International Virtual Course in Sustainable Process Metallurgy 2021. The course will be held in four weeks from August 2nd – 31th, 2021.
This course will cover the fundamentals of the science and technology behind the production of metals from raw ores and electronic wastes by using high and low-temperature processes. This course discusses metals processing by using pyrometallurgy, hydro-electrometallurgy routes, and also recycling. The basis of the metallurgical process like thermodynamics will also be addressed. It will also discuss the extraction of Cu, Ni, Sn, Zn, Pb, rare earth metals, and the recycling of WEEE (Waste Electrical and Electronic Equipment).
This program is perfect for anyone interested in understanding the fundamentals of process metallurgy in a comprehensive manner. Finland is well known for its copper technology and the professor from Aalto University will teach us how to make the copper. China is the top metals producer in the world and therefore we will learn how to produce zinc and lead and to know the current condition of WEE recycling there by the expert from Central South University. Indonesia is well known for smelting technology for its lateritic nickel and tin ore and thus, it's good to know how to process them from the experienced lecturer from Bandung Institute of Technology.
This program is intended for all circles. Senior undergraduate and postgraduate students worldwide can join this program free of charge. Meanwhile, participants other than students are required to pay a registration fee of IDR 3,000,000. The important dates for the implementation of this activity include registration starting on June 12th, 2021, and closing on July 25th, 2021. The announcement of the selected participants will be held on July 28th, 2021 and the first online lecture will be opened on August 2nd, 2021.
For further information, please visit : https://metallurgy.itb.ac.id/international-virtual-course-in-metallurgy-2021/
/?php comments_template(); ?>